Whether you are a Regulated (49 CFR Part 40) or a Non-Regulated industry, you can count on PAS Systems for all your Workplace Breath Alcohol Testing needs.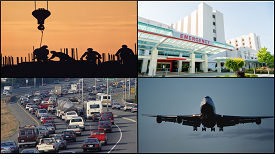 The US Department of Transportation (DOT) has strict guidelines for the alcohol testing of its transportation workers with safety-related duties which include the FAA, FMCSA, FRA, FTA, and PHMSA. Our entire line of Alcovisor Evidential Breath Testers is on the NHTSA Conforming Products List and on the DOT's Office of Drug & Alcohol Policy and Compliance website ensuring they meet the required standards and are qualified to be used in DOT workplace testing programs.
With over 20 years of knowledge and experience in the alcohol sensor business, PAS Systems enables you to conduct your workplace testing in an efficient and reliable manner. Breath testing instruments available in kit combinations to meet your needs and budget. In addition, PAS offers all the necessary Supplies and Training, supported by our superior Customer Service.
Solutions